UTS 1 – The Hammer Hits Hard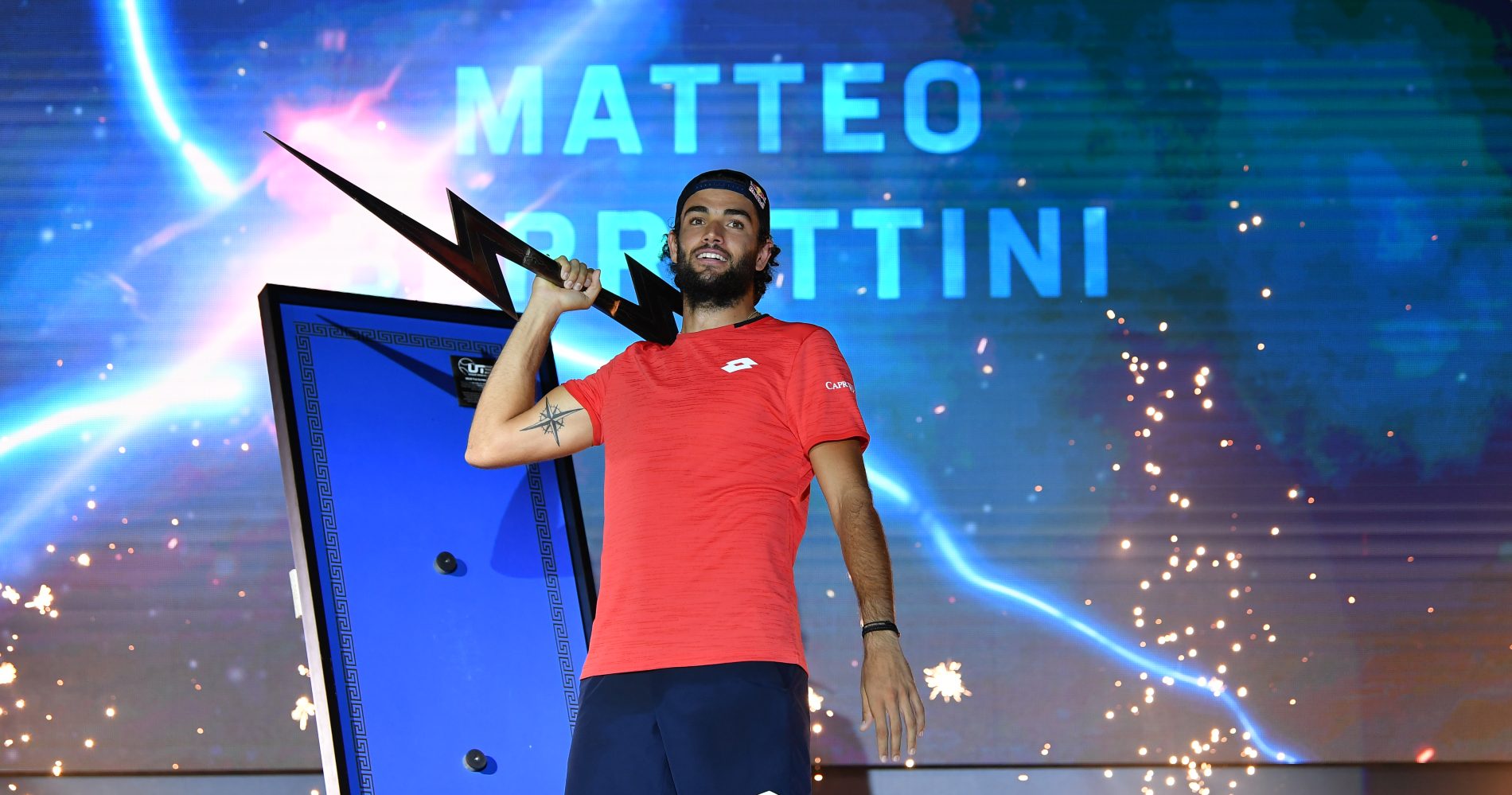 Patrick Mouratoglou didn't waste any time bringing the best and brightest in tennis to the court at the inaugural Ultimate Tennis Showdown. The star-studded event, held at the Mouratoglou Tennis Academy in the South of France in June of 2020, featured Matteo Berrettini, Stefanos Tsitsipas, Richard Gasquet, Feliciano and many other household names.
A veritable who's who of the ATP Tour…
Those names weren't the only ones we used, however. At Ultimate Tennis Showdown, the players all adopt catchy nicknames, and the one that was the most catchy at UTS 1 belonged to Matteo Berrettini – the man nicknamed "The Hammer" became the first ever champion at the event.
UTS1 was a success on many levels. It made headlines for its experimental format as well as its stacked player field. Four 10-minute quarters, with a groundbreaking sudden death session if necessary, plus… the cards! Players chose cards such as "winner counts 3" and "steal serve" in order to enhance their strengths – and their opponent's weaknesses.
There was also unlimited coaching via headset and a 15-second shot clock between points – staples of the format that have influenced the tours in recent years.
A "feel good" affair
UTS1 provided the tennis world with a rare moment of joy during the first year of the pandemic, when tennis was shut down across the globe. The Ultimate Tennis Showdown brought the sport to life again, breathing air into the lungs by broadcasting thrilling live tennis to the world in a wild, compelling format that had never been seen before.
The first litmus test was easily passed: the players were thrilled to be a part of it.
Richard Gasquet – aptly nicknamed "The Virtuoso" – was one of the best players in the competition, and he cherished being a part of this fledgling show. Same for Feliciano Lopez, Dominic Thiem and Dustin Brown. These stars lent further panache to the event, which was memorable on many levels.
Sudden death? Sudden joy!
The introduction of sudden death, a winner-take-all format to decide matches that were tied at 2 quarters (sets, if you will) all, seemed to suit "Greek God" Stefanos Tsitsipas (yes, that really was his nickname), as he won four matches in the extra session.
The two-time Grand Slam finalist, who fell just short in the final against Berrettini, had good things to say about the new format.
"I think it is a new format that allows for more variety in our game. It's a good concept and it's going to show and provide people something new in the industry of tennis. I see that as an evolutionary product and something that's going to just expand the horizons of tennis" said the top Greek.
In the end the hammer fell upon all challengers and Berrettini came away with the title. The Italian was celebrated in one of the most unique trophy celebrations we've ever seen, then it was on to UTS 2…